While we're hard at work on our next game, as a final content update to Cockwork Industries we're adding dialogue skins to the game for all love interests. These skins, when active, will change the character's appearance in dialogue animations and portraits.
The first dialogue skin we're introducing is Birthday Girl Andrea, which can be picked up by clicking the ribbon item in the Office: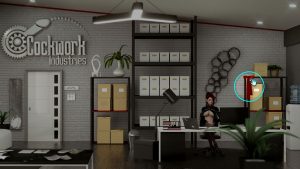 Upon pickup, a bonus "tease" animation showcasing the skin will also play out. Dialogue skins for remaining characters will be added over time.
The update will also be available on Steam and Itch.io tomorrow. Because we can't update the game ourselves on Nutaku, Affect3D, Renderotica and DLSite and hence adding a series of small updates would be quite problematic, we'll have one big update on those platforms once all dialogue skins are ready. Thank you for your patience.
v4.10 Changelog:
• Birthday Girl Andrea dialogue skin added
• Several dialogue spelling corrections (credit to Joe Dunbar for pointing out the errors)
• Minor bug fixes