The fourth Cockwork Industries dialogue skin is Widow's Venom Rita, which can be picked up by clicking the spider item in the Laboratory: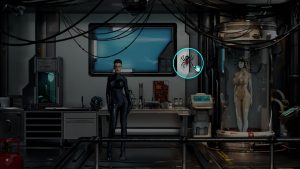 Upon pickup, a bonus "tease" animation showcasing the skin will also play out. Dialogue skins for remaining characters will be added over time.
This update will also be available on Steam and Itch.io tomorrow while a joint update containing Nadia and Rita's skins will be added to Nutaku and Affect3D as soon as possible.
v4.14 Changelog:
• Widow's Venom dialogue skin added
• Fixed an issue where the Hat-Trick Secret Archive entry could not be unlocked in Straight+Gay Mode without having sex with Diego.