As we mentioned in the Countess in Crimson reveal, it isn't the the only thing currently baking in our ovens. We are pleased to announce Forbidden Curiosities!
Content-wise Forbidden Curiosities (FC) strays far, far away from what we showed you in Cockwork Industries (CI) and what we are preparing for Countess in Crimson. There's no vanilla in it, only spice, sweat and tears. We are going back to our roots with this one and targeting it at our most dedicated Members Area subscribers whose support allowed us to stay afloat for the last few years.
Some of the characters (or places) shown in today's announcement may look familiar to those of you who follow our blog. Indeed, concept work for FC started long ago. When Astaroth was busy preparing graphical assets for CI, Tokage was tinkering with a game idea, testing some characters and weird places they may inhabit. Prep work was put aside when CI's proper development began, but now, when our work on Cockwork Industries is almost complete, I finally have time to move the project forward.
Gameplay-wise FC takes elements of CI that worked and adds a whole lot of dating sim elements on top. Detailed time management, stats, specific actions that can be undertaken only on specific locations and so on.
For those of you who glimpsed at the presented artwork and are now wondering – will there be any "normal looking" characters in FC – yes, there will be. An honest word of advice though – if you're not into oversexed bimbos, silicone inflated lips, giant cocks and even bigger boobs – stay clear. Even with a bunch of "normal" looking NPCs you're clearly not the target audience. For everyone else – stay tuned, as we plan to have an open development for FC, with semi-regular updates, pinup galleries for our Members Area and so on.
Let's sin together!
Forbidden Curiosities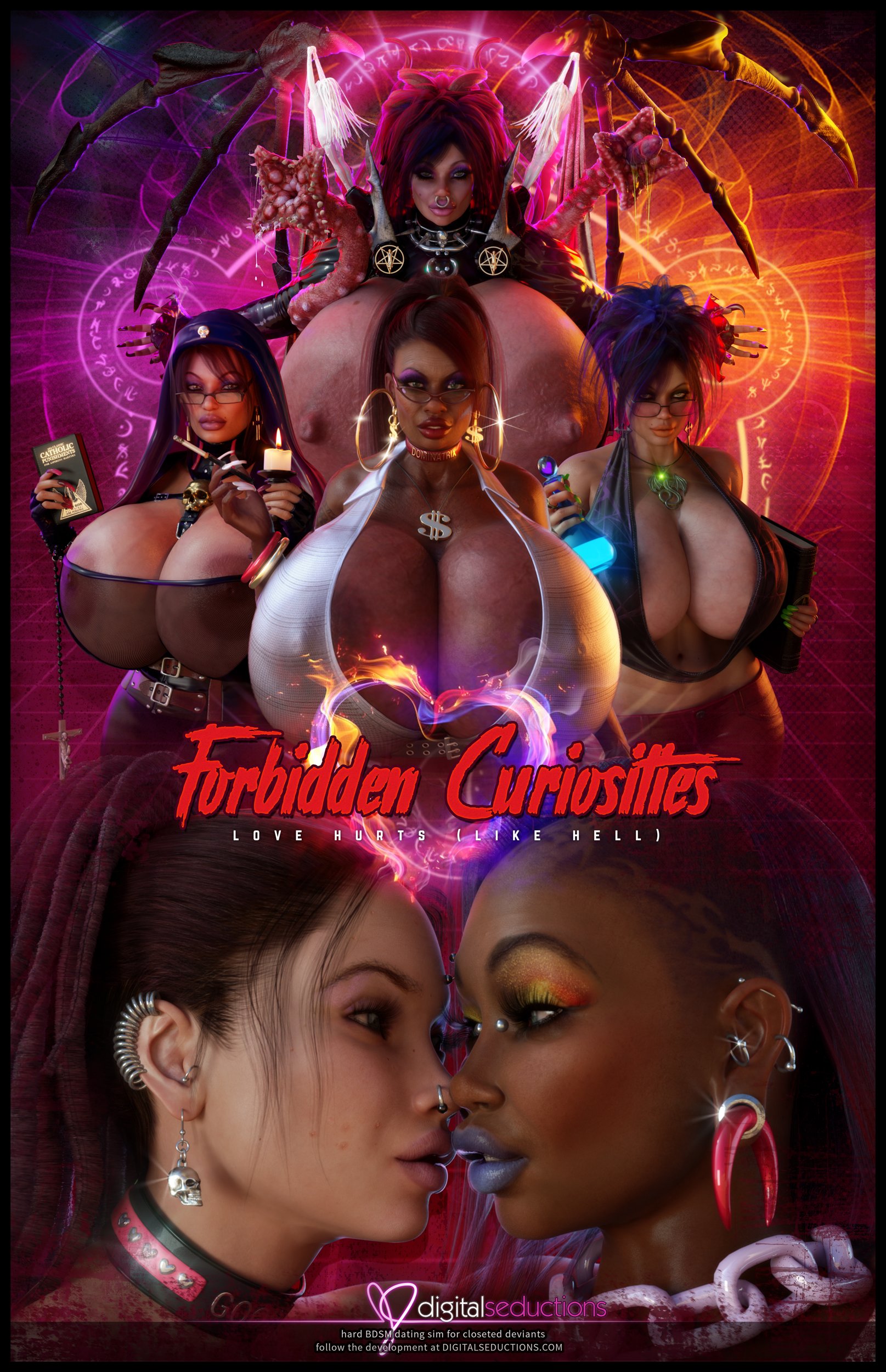 Forbidden Curiosities follows the story of… well, calling it a story is a bit of a stretch. It follows the exploits of cock-craving pussy-juice addict Jasmine – a young futa girl who tries to make a place for herself in a weird city of bimbos and hoes.
As for how the development progress looks as of today – here's a chart we will try to update regularly.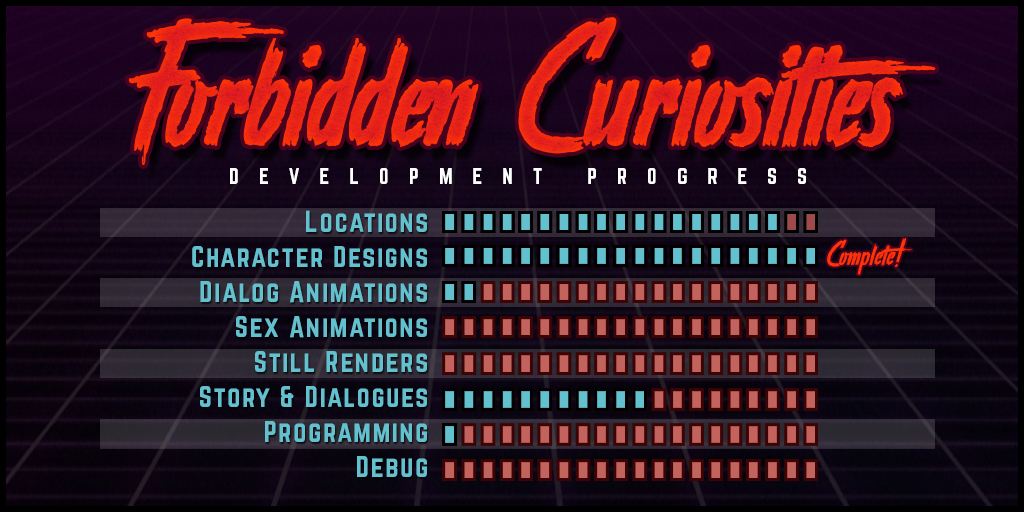 Jasmine
Reluctant heroine
Age: 21
Sex: female/futanari
Height: 160 cm / 5'3″
Weight: 51 kg / 112 lbs
Bust: As big as you make them throughout the game (starts with natural, D Cup)
Cock: As big as you make it throughout the game (starts with a tiny one, 10 cm / 4 in when it's flaccid)
Jasmine is a heavily depressed, suicidal futa girl longing for true love and a protagonist of the story.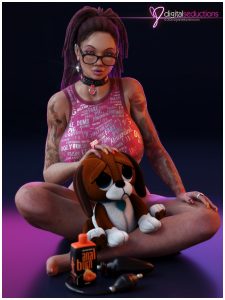 Laila
Blonde slut
Age: 27
Sex: female/futanari
Height: 158 cm / 5'2″
Weight: 76 kg / 167 lbs
Bust: Natural, medium sized (K cup)
Cock: Flaccid – 20 cm /8 in, fully erect – 38 cm /15 in
Daily semen output: 2,4 l / 81 fl oz
Laila is a true futanari bimbo. This voluptuous blonde packs a tree log in her pants and a constantly wet and dripping bottomless pussy. While her IQ may be that of a pidgeon, her cock is horse-like. Her big breasts and even larger butt are matched only by her big heart. She's cheerful, clueless and lovable… and horny too.
When she's not masturbating vigorously or isn't busy stretching her stink-hole, she strolls the city streets looking for a cock to blow or pussy to fuck.
Kennie
Submissive cross-dresser
Age: 18
Sex: male
Height: 162 cm / 5'4″
Weight: 51 kg/ 112 lbs
Bust: Despite overuse of breast pump and hormone therapy he can't get past A cup
Cock: Fully erect – 30cm /12 inches (due to extensive use of cock-rings and cock-pumps it's never flaccid)
Daily semen output: 1,5 l /50,7 fl oz
Raised by a whore mother who used to cross-dress him and babysitted by a cruel older sister, Kennie grew up into shy, submissive boy in conflict with his manhood. He considers his enormous cock to be the source of all the abuse he ever experienced so now he constantly ties it or squeezes it with cock-rings hoping one day it'll simply fall off, ultimately turning him into a nullo, free of male attributes and relieved of all the pain. Despite horrific things he experienced, when shown attention he turns out to be quite a hopeful and honest person.
Blue
Dominant older sister
Age: 23
Sex: female
Height: 168 cm /5'6″
Weight: 61 kg /134 lb (while pregnant)
Bust: natural, small sized (DD cup)
Daily Milk output: 0,9 L / 30 fl oz
Her innocent face is just a mask hiding cruel and incredibly corrupt soul. Due to her constant overuse of both alcohol and prescription drugs her breast milk posseses same qualities as a roofie pill and her child is most likely to be born with extreme case of FASD.
Merium*
Mysterious clerk
Age: ?
Sex: female
Height: 164 cm /5'4″
Weight: 67 kg /134 lb
Bust: natural, medium sized (J cup)
Shop clerk in a mysterious antique curiosities shop. She may look like a woman in her late 30's but her mannerism (and knowledge) seems to suggest that she may be much, much older. She's also probably harboring a secret – or a dozen.
*character conceived by DmVirgin, if you're into sacrilege, be sure to visit his Twitter