The fifth Cockwork Industries dialogue skin is Smooth Criminal Maia, which can be picked up by clicking the fedora item in the Cafeteria: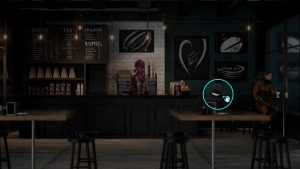 Upon pickup, a bonus "tease" animation showcasing the skin will also play out. Dialogue skins for remaining characters will be added over time.
Note to Nutaku and Affect3D customers: because the time period between this update and the previous one was short, the game will be updated straight to v4.15, not 4.14 as was previously planned. The availability of the update of course depends on how fast the store staff will be able to update the game files.
v4.15 Changelog:
• Smooth Criminal dialogue skin added