Hello everyone.
Today we'd like to give you some details regarding progression and content unlocking we'll have in place for Countess in Crimson
Many of you probably remember, in our previous game – Cockwork Industries, you had to increase your reputation with each separate character to unlock sex scenes and endings. In Countess in Crimson we're approaching this differently. Instead of character reputation scores, the player will be developing three "Personality Traits": Empathic, Naughty and Impressionable.
Empathic – You care about people around you, even at the cost of your own self-interest.
Naughty – You love all mischief, big and small. This includes flirty and cheeky behavior as well as downright rude, evil or cruel.
Impressionable – You're likely to be influenced by others or your own unfounded beliefs. Also associated with spirituality and superstition.
Each girl will be attracted to one of those personality traits and each trait will allow you to unlock additional content with more than one girl. For example, developing the Empathic trait will improve your relationships with both Ashley and Irina.
This new system addresses many issues we had with the CI reputation-based system:
Because you're developing your own personality traits instead of guessing what a certain character may or may not like, it'll be easier to assess dialogue choices and judge the impact they have on character development, giving the player more agency from the get-go. To make it even clearer, you'll see visual feedback for each of your chosen responses – blinking Heart icon means you raised your Empathic trait, Trident is for Wicked, Eye for Impressionable, while no icon means that particular response was neutral and had no impact on developing your personality traits. Here's an example:

It'll be easier to unlock additional content with multiple girls in one playthrough since each trait corresponds to more than one (at the start we'll have 2 girls for Empathic, 2 for Wicked and 1 for Impressionable; the ultimate goal after all DLC content is to have 3 for each / 9 girls total).
We don't need to have a comparable number of dialogues for each girl. All that matters is that the number of Empathic/Wicked/Impressionable responses is roughly equal throughout the game. This helps in maintaining better story flow.
In terms of sex scenes available in your playthrough, 2 will be available for each girl without any effort, while "maxing out" personality traits will grant you access to additional, more spicy scenes.
To help you track your in-game progress, this time around we created the character progression screen: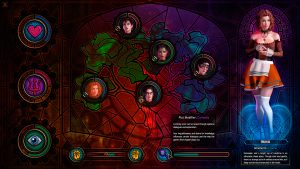 On the image, you can see Personality Trait progress on the left as well as corresponding romance progress in the center.
You probably also noticed two additional parameters can also be seen at the bottom of the screen. Since Countess in Crimson also has a more elaborate story than Cockwork Industries, the endings will no longer be determined by your romance choices. Instead, it'll be determined by "Plot Modifiers" – Sanity and Curiosity. Depending on the combined score of these two, the game's last chapter will play out differently and contain additional unlockable content.
Hope you found this post as least remotely interesting 🙂 . To sweeten things up, here's an in-game screenshot of Aliyah in her full glory: