Sorry it took that long, but we're finally ready to announce what's coming after Cockwork Industries!
We have two games currently in development – Countess in Crimson, which we're announcing today and Forbidden Curiosities, which will be announced shortly. With these games we're taking everything we learned from Cockwork Industries and improving on everything we got right while getting rid or changing things that most players disliked. Our aim is also to improve the overall visuals – better looking characters, smoother and more natural animations, more exciting environments. Although gameplay-wise the games are not yet fully fleshed out, they will also introduce new features and gameplay mechanics.
Countess in Crimson will be more or less in line with Cockwork Industries in terms of subject focus, while Forbidden Curiosities will be much more fetish-oriented and aimed towards the fans of Sodom Sluts-style content. In terms of aesthetics and subject preference Forbidden Curisities might not be be a game for everybody (although we encourage you to check out the game's upcoming announcement and see for yourself – you might be surprised what kinks you're really into 😉 ), but fans of futanari and heavy fetish will feel right at home. If you're more of a fan of "vanilla" style erotica, Countess in Crimson will probably be more down your alley, which doesn't mean it'll lack spicy and fetish content 😉 .
Countess in Crimson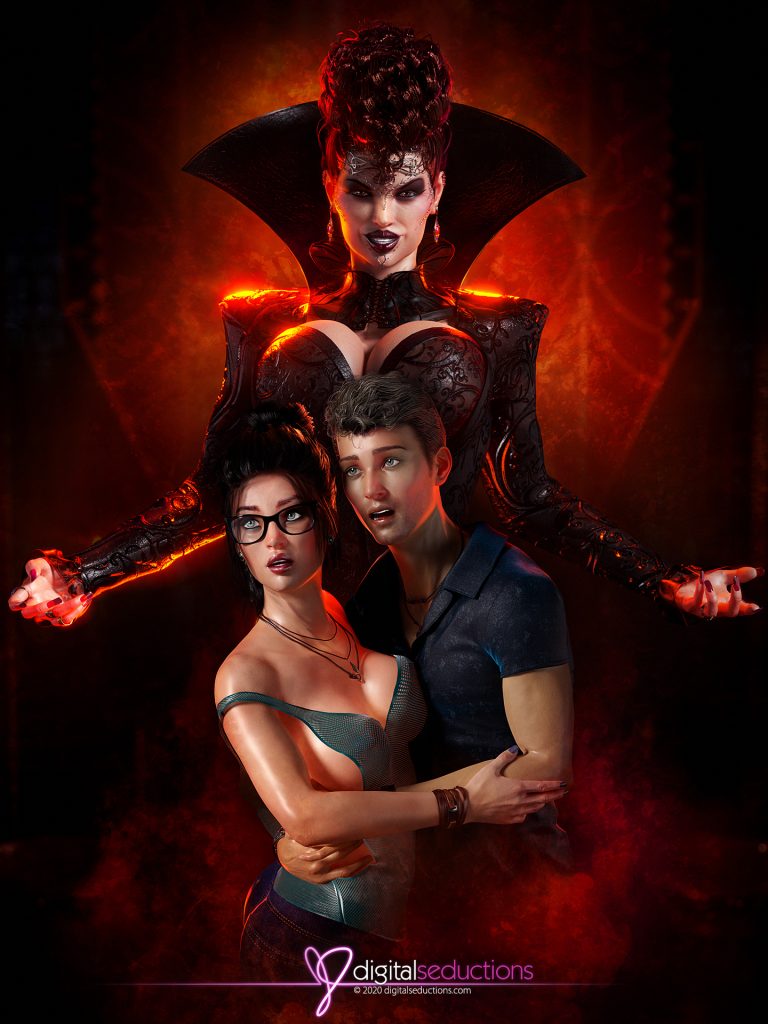 Countess in Crimson follows the story of Josh and Ashley – a young couple stranded somewhere in the Carpathian Mountains who eventually find themselves in a secluded village whose denizens live in the shadow of a menacing castle towering over the landscape, in which the mysterious Countess resides.
Unfortunately we don't have any animations or gameplay to show you yet, so for now we'd like to introduce you to the game's main characters – Josh (yes, this means the game will feature a white male protagonist 🙂 ), Ashley and the eponymous Countess.
Josh
Player Character and the protagonist of the story.
Ashley
Josh's girlfriend.
The Countess
A mysterious resident of the grim castle overlooking the village and main antagonist.
Additional images to show the style and overall "feel" of the game:
That's all we have for you today regarding Countess in Crimson. We'll of course be posting updates as the game's development progresses. Meanwhile, stay tuned for the upcoming Forbidden Curiosities announcement!